BRAND OF SACRIFICE EARRINGS
Regular price

$59.95
Sale price
BRAND OF SACRIFICE EARRINGS
Regular price

$59.95
Sale price
About Made To Order Items
All made-to-order items receive a 10% discount! Each piece is handmade to order, and it takes time to ensure that you receive the best quality possible! Fulfillment is expected to take about 1-3 weeks, and you will be notified once your item is shipped. Visit our FAQ for more info.
Find Your Size
Click here for a detailed sizing guide. 
Average Ring Sizes
The average ring size available for women ranges from size 3 to size 9. The most commonly purchased women's rings range between size 5 and size 7. Size 6 is the most popular. The average ring size available for men ranges from size 6 to size 13. The most commonly purchased men's rings range between size 8 to 10. Size 9 is the most popular. These standard ring sizes can help guide you in the right direction.
| | | |
| --- | --- | --- |
| Average Size |  Desired Finger | Recommended Sizes |
| | Pinky | 6, 7 |
| Men | Ring | 7, 8, 9 |
| | Index/Middle | 9, 10, 11 |
| | | |
| | Pinky | 4 |
| Women | Ring | 5, 6 |
| | Index/Middle | 6, 7, 8 |
Average Bracelet Sizes
| | | |
| --- | --- | --- |
| | Wrist Size | Bracelet Size |
| | Small | 7.5 |
| Men | Medium | 8 |
| | Large | 8.5 |
| | | |
| | Small | 6.5 |
| Women | Medium  | 7 |
| | Large | 7.5 |
Your Satisfaction Guaranteed
All of our items are handmade with care and we stand behind the quality of our jewelry with a 100% Satisfaction Guaranteed Warranty — our promise that if  you're not completely happy with your jewelry, send it back within 60 days and receive a full refund.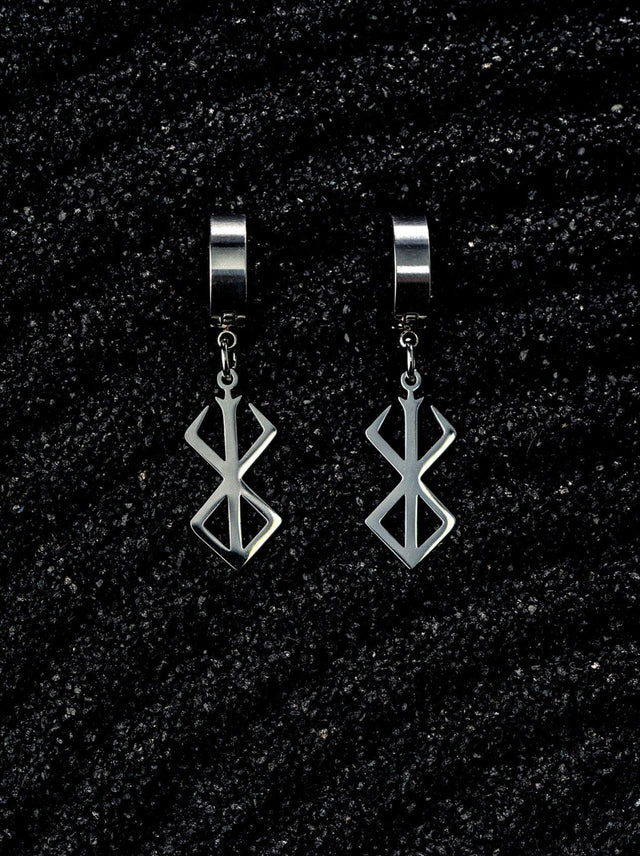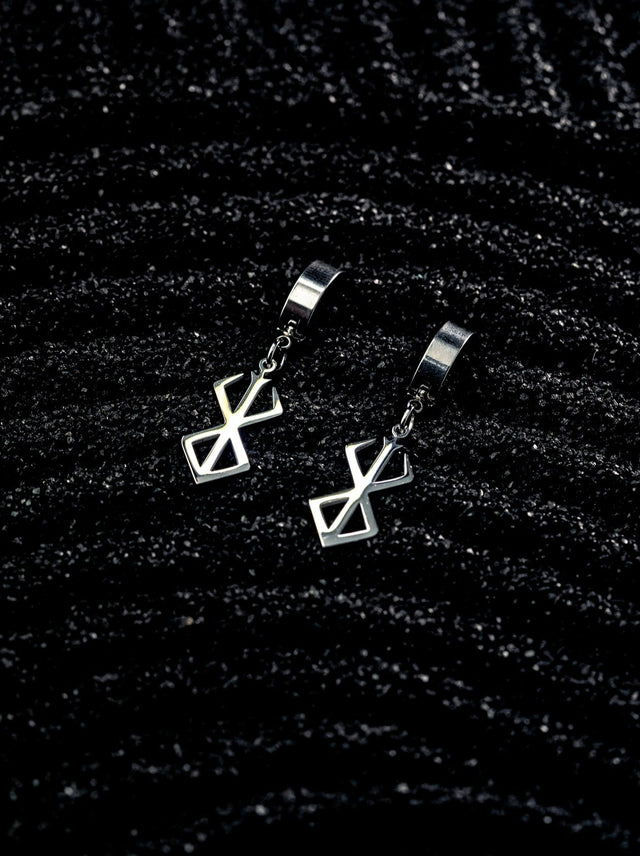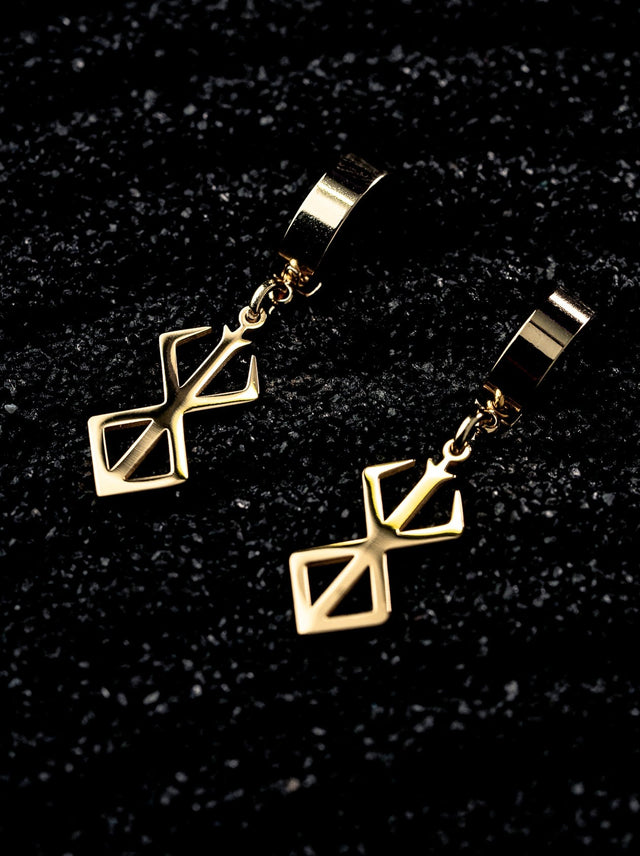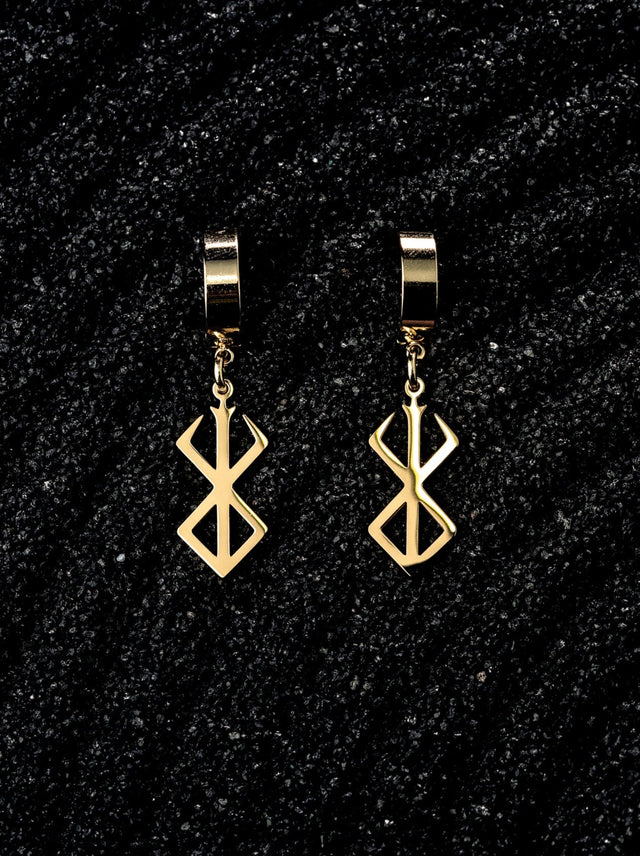 Humans unfortunate enough to survive this mark reside in the interstice between the physical and astral worlds, doomed to fend for themselves against an unrelenting sacrifice by creatures of darkness and attacks from restless souls of the dead. 
However, others see this brand as proof that despite one's mortality, you have the strength to fight challenges head on until your dying breath; a symbol that nobody controls your fate but you.
Materials: Hypoallergenic Stainless Steel / 18K gold plated.
Earring dimensions: Approx. 1.5" by .5" (including earring hoop). 
Why buy from us?
High Quality Materials
Premium materials like sterling silver, gold, and stainless steel that will never rust or turn your skin green.
Fair Pricing
Major jewelry brands markup their products 8-10x the actual cost. We are the jewelers and are therefore able to sell directly to you for a fraction of the cost.
100% Satisfaction Guaranteed
Return your purchase for any reason absolutely free of charge.
Unique Gift Packaging
More than just functional, our decorative and creative packaging makes for a unique unboxing experience. It's ready to be gifted!
Free in every order
Polishing Cloth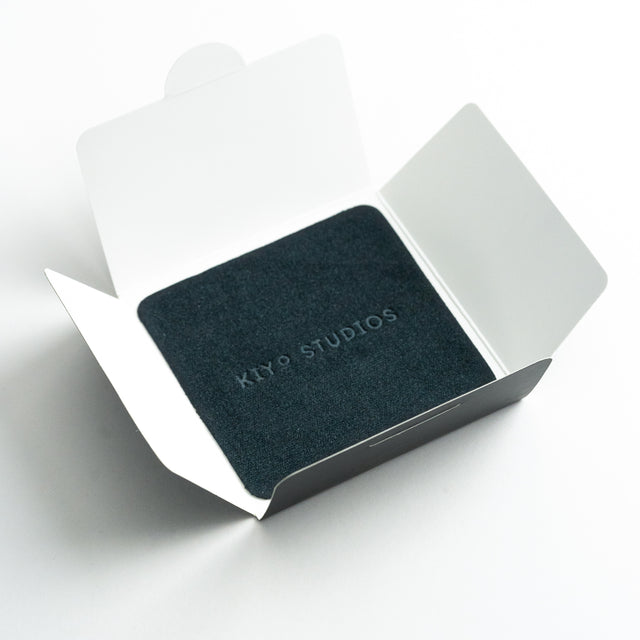 Imbued with a polishing compound, this cloth ensures your jewelry is always looking brand new.
Nothing to say
It was an amazing job !
A great job !
I wear them all the time :)
10/10
Such beautifully crafted earrings, I wear these 24/7 and they haven't tarnished, haven't turned my ears green and are comfy to sleep in. Highly recommend. If I had more space for earrings, I'd buy another pair to wear lol.
Earrings are bussin
Once again, they r bussin
No info,No feedback,No clue of what's going on
They say to wait 5-8 business days only to ship your order,after 10 days and no feedback (i sent them an email) it seems that my order was finally shipped. Its been more than 1 month and i still have no news of what is going on, haven't received anything yet. Maybe if you live in the U.S it's worth giving a try. they deserve one star for being disonest, if u say 5-8 business days you got to respect that. Also the 14 business days for the deliver is another scam.
Hi Dario – I'm sincerely sorry to hear that your experience with us hasn't met your expectations. More importantly, I want to figure out how we can make this right. Regarding your earrings, they were a made-to-order item, and due to a large influx of orders and since each piece takes a lot of time and care, our processing time is 2-3 weeks. I apologize if it wasn't clear enough that it was a made to order item, and that it would take a while to make and ship.
Regarding the international shipment- unfortunately we have no control over the delivery times, and most international shipments should arrive within the estimated time frame. I know it's frustrating to be stuck waiting on a package, and I went ahead and fully refunded your shipping costs. Again I sincerely apologize that your experience with us has been unpleasant, and I hope that once you receive your jewelry you're happy with the time, effort, and care we put into making each piece.
If you have any other questions at all please let me know, and I hope you have a great day!
Best regards,
Cole