HEART PIRATE PENDANT
Regular price

$49.95
Sale price
HEART PIRATE PENDANT
Regular price

$49.95
Sale price
About Made To Order Items
All made-to-order items receive a 10% discount! Each piece is handmade to order, and it takes time to ensure that you receive the best quality possible! Fulfillment is expected to take about 1-3 weeks, and you will be notified once your item is shipped. Visit our FAQ for more info.
Find Your Size
Click here for a detailed sizing guide. 
Average Ring Sizes
The average ring size available for women ranges from size 3 to size 9. The most commonly purchased women's rings range between size 5 and size 7. Size 6 is the most popular. The average ring size available for men ranges from size 6 to size 13. The most commonly purchased men's rings range between size 8 to 10. Size 9 is the most popular. These standard ring sizes can help guide you in the right direction.
| | | |
| --- | --- | --- |
| Average Size |  Desired Finger | Recommended Sizes |
| | Pinky | 6, 7 |
| Men | Ring | 7, 8, 9 |
| | Index/Middle | 9, 10, 11 |
| | | |
| | Pinky | 4 |
| Women | Ring | 5, 6 |
| | Index/Middle | 6, 7, 8 |
Average Bracelet Sizes
| | | |
| --- | --- | --- |
| | Wrist Size | Bracelet Size |
| | Small | 7.5 |
| Men | Medium | 8 |
| | Large | 8.5 |
| | | |
| | Small | 6.5 |
| Women | Medium  | 7 |
| | Large | 7.5 |
Your Satisfaction Guaranteed
All of our items are handmade with care and we stand behind the quality of our jewelry with a 100% Satisfaction Guaranteed Warranty — our promise that if  you're not completely happy with your jewelry, send it back within 60 days and receive a full refund.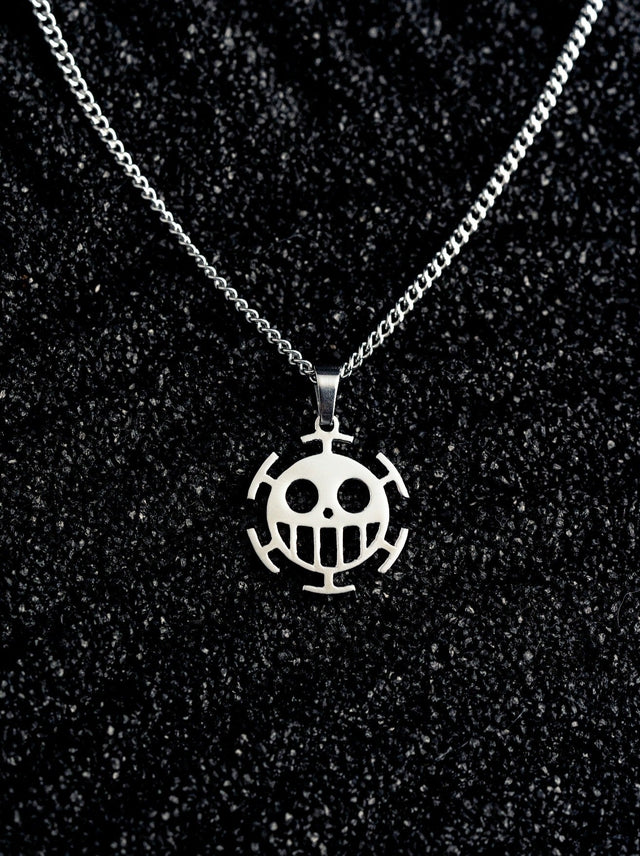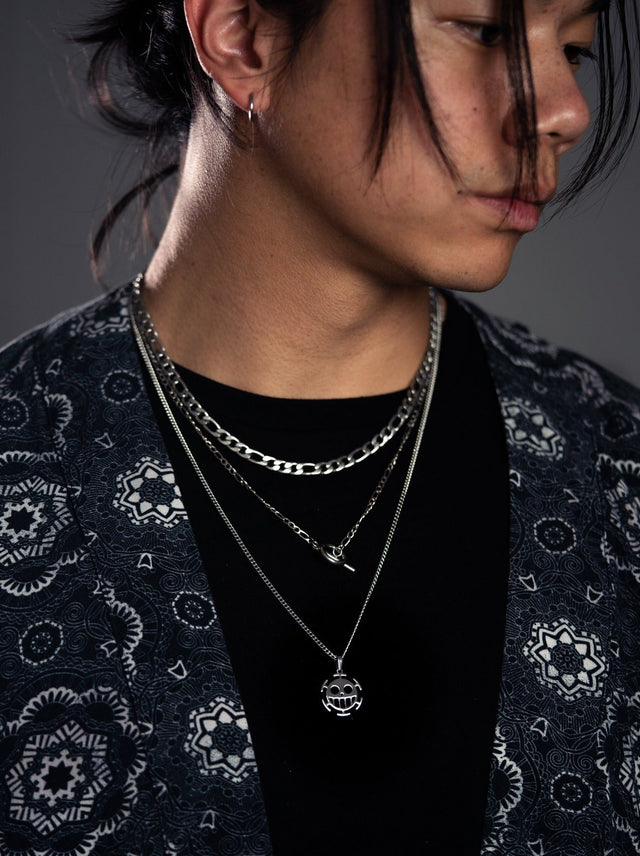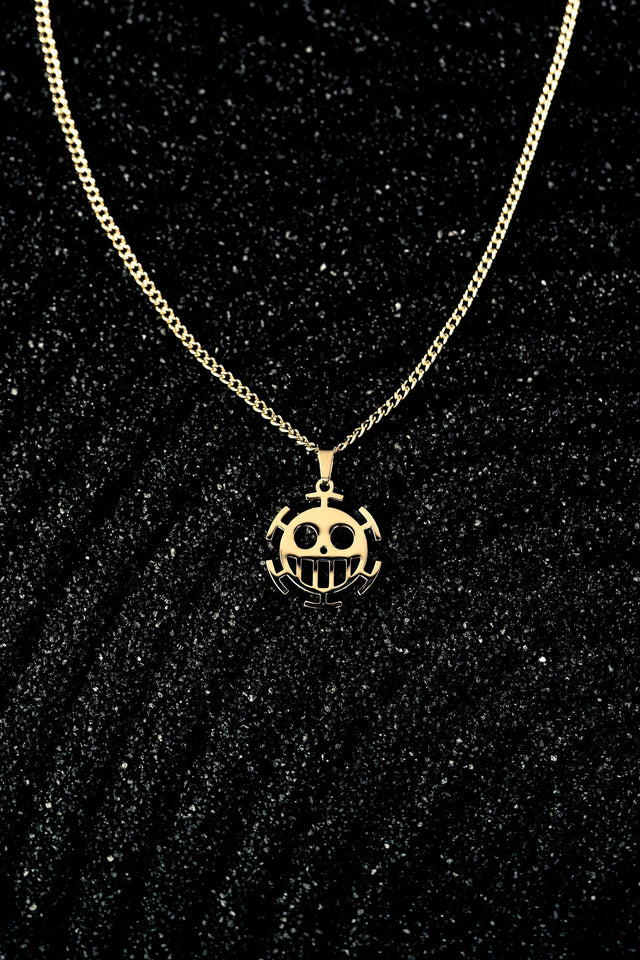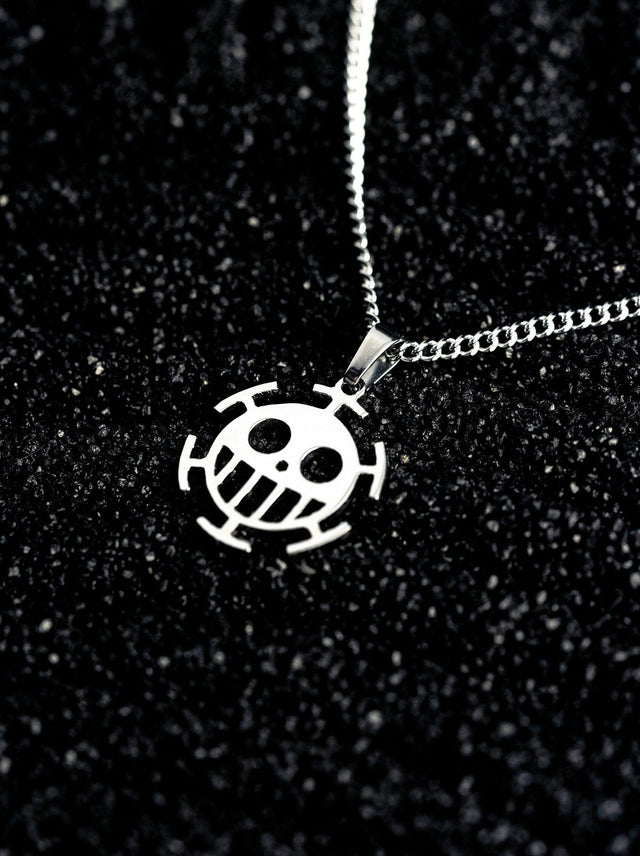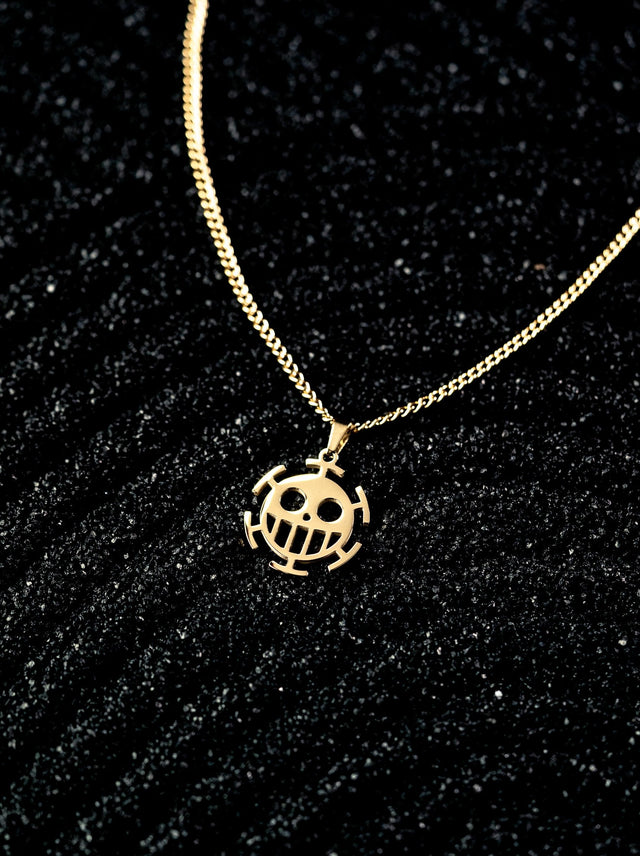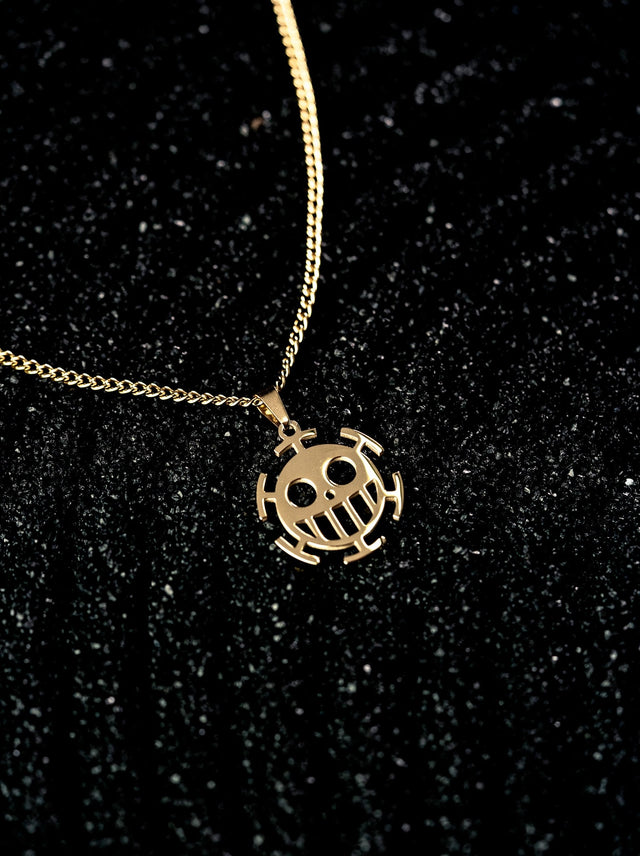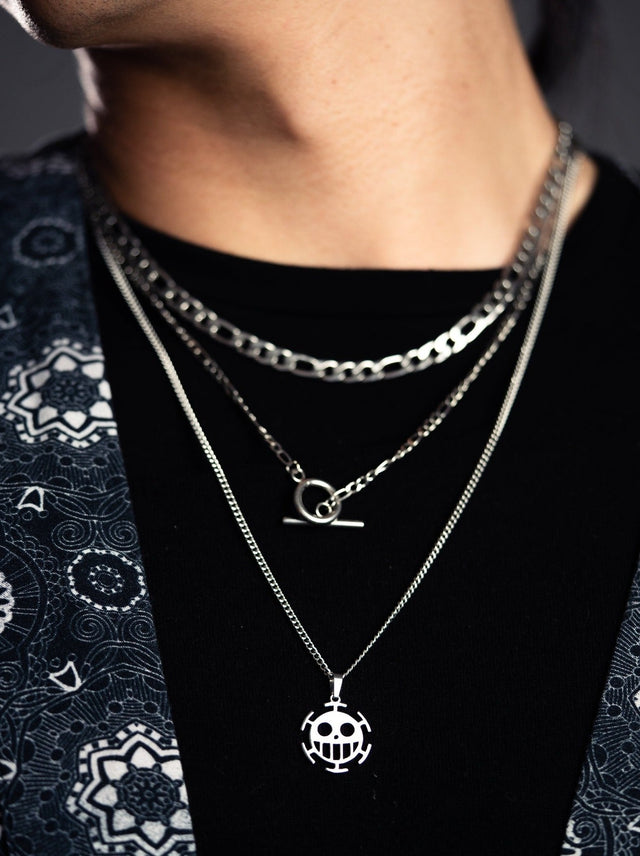 ROOM ルーム
Embrace the spirit of Trafalgar Law with this exquisite tribute to one of the most simped on characters in anime history. It's not just a piece of jewelry; it's a symbol of your unwavering love for One Piece and the captivating world it embodies. Let Law's power and charisma shine through this extraordinary pendant!
Materials: Hypoallergenic stainless steel, comes with a 2mm curb chain. 
Pendant dimensions: Approx. .75" by .75". Model wearing 24" chain.  
Why buy from us?
High Quality Materials
Premium materials like sterling silver, gold, and stainless steel that will never rust or turn your skin green.
Fair Pricing
Major jewelry brands markup their products 8-10x the actual cost. We are the jewelers and are therefore able to sell directly to you for a fraction of the cost.
100% Satisfaction Guaranteed
Return your purchase for any reason absolutely free of charge.
Unique Gift Packaging
More than just functional, our decorative and creative packaging makes for a unique unboxing experience. It's ready to be gifted!
Free in every order
Polishing Cloth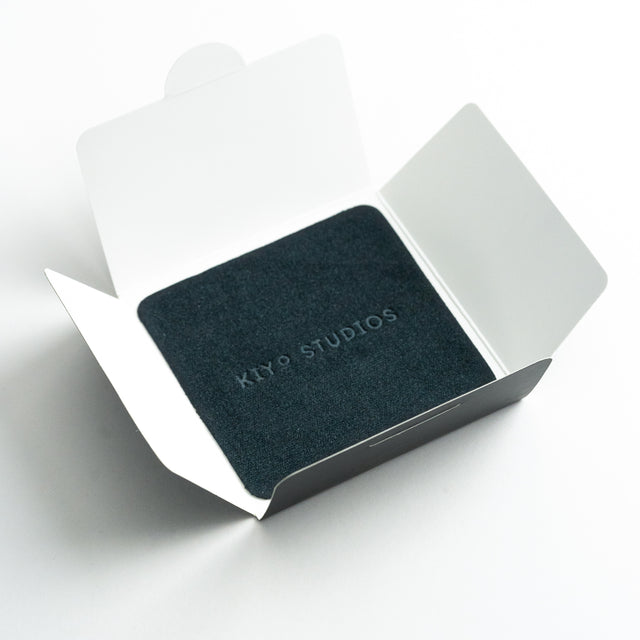 Imbued with a polishing compound, this cloth ensures your jewelry is always looking brand new.
Honest rlly good quality, everything I've bought from Kiyo Studies has been amazing, would definitely recommend
Review
Been in love with this brand since I found it's I've ordered some chains and bracelets and they're amazing best anime jewelry around by far
Great Quality Work
I love this pendant and will be buying many more. I've been wearing it every day and I absolutely love it. It is a good quality pendant and chain. The chain is nicely weighted and not itchy or scratchy at all. I am waiting to see if there is any damage from wearing it every day but so far it's been perfect. I will be buying more in the future.
Disappointed
Chain broke in less than a week.
Hi Sam – I'm sincerely sorry to hear that your experience with us hasn't met your expectations. While each piece is inspected before shipping out, we're not perfect, and it sounds like your chain must've had a small defect that resulted in it breaking. More importantly, I stand by the quality of our jewelry, and want to make this right.
If you're willing to give us another chance, I'll be shipping you another Heart Pirate necklace free of charge. I will also be following up to find discuss this further, and to prevent this from ever happening in the future.
Again I'm sorry that you weren't pleased with your experience, and I hope to make it right!
Best regards,
Cole